60-minutes to find your roots, ignite your fire & feel alive.



This is for all the creative soul-searchers
who know

the power of seeking out their truth.

Let me teach you to control your inner fire,
so you can feel comfortable in your own skin.

WELCOME, SEEKER
You've followed the pull of reinventing yourself for years… and yet, it's not enough. You still feel uncomfortable in your own skin. You have tried all kinds of self-development tools but progress is slow and temporary.
You're self-aware, and you can't ignore the inner fire any longer. Your little embers of power want to rise into flame. But you don't want to unleash it in case it burns down your life.
In the self-help realm, we are told that if we have felt flawed, wrong or broken, that we can heal and 'move on' from those experiences. So often, we are told to give up our fears, to let go of our past and to burn the bridges of our 'old life.'
But those roots are your secret weapon. You don't need to untangle your experiences. Just to know how they connect.


Imagine going from overwhelmed and lost,
feeling guilty for wanting more to feeling energised, trusting in your power
and actually living the life that is true to you.


Do You:
       Have a shelf FULL of (mostly unread) self-help books as you tried to know yourself?
       Worry about wasting time, back-tracking or losing momentum?
       Struggle to turn dreams into doing because of all the conflicting advice out there?
       Doubt your ability to make the 'right' decision?
       Know, deep down, what transformation could look like for you, and beat yourself up for not reaching it yet?
~It's time to stop feeling frustrated with your decisions and trust your instincts. Step off the circular-path and step onto one leading you forward. By connecting with your inner strength, you have the power to define your journey.~
IT'S POSSIBLE:
It's time to embrace this new self, without ignoring or discarding everything you've done and been before. You're ready to step into your true self, that potential for feeling alive. You want to reinvent your life, without uprooting yourself.
It's not only possible, but it's worth the work.
Imagine How Different Things Will be When You:
Know where to focus your attention to get results
Level up needed skills to complete your 'main quest'
Have ignited that inner fire of motivation and guidance
Feel inspired by and excited about life
Really understanding the depths of what you are capable of
Manage your daily stress and find balance
Together we can get your next step planned out, connect with your motivation,
and reinvent yourself without losing who you already are.
Are you looking for a way to meld all the science and action with your intuition?
Welcome: You're in the right place.



This was the insight I needed.
"To be honest this was the insight that I needed to see for starters – it's nice to see that I need to do the little steps… I'm just being impatient with myself. I've gained quite a lot and I'm more comfortable taking the baby steps. Thank you so much I am I'm going to work on my baby steps now… Thanks a million."
 – Tonya, NUTRITIONAL THERAPIST
I'm Katy-Rose, and my superpower is teaching you to actually make lasting change in your life.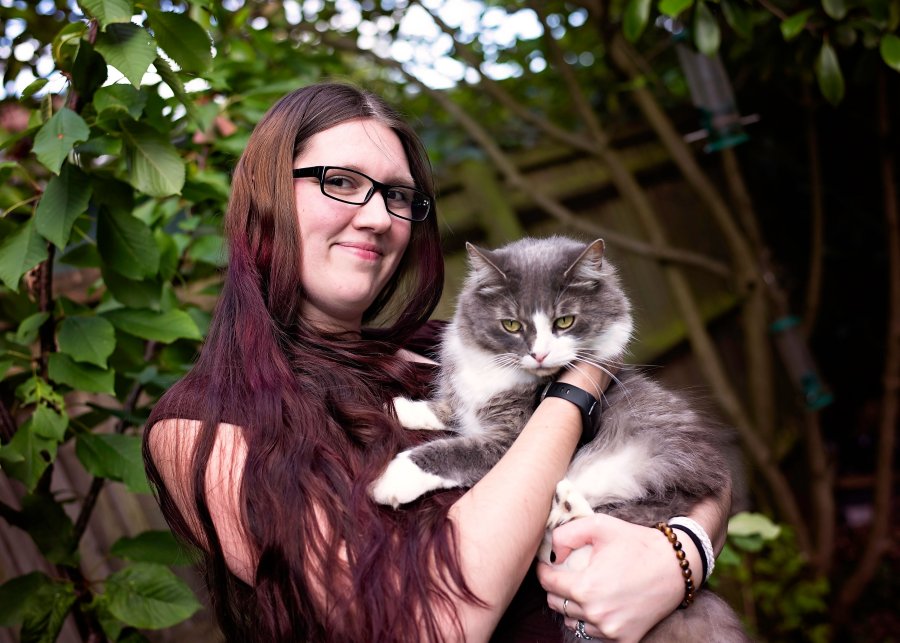 Hai. I'm Katy-Rose.
Reinventor, cat-parent, story-teller & star-gazer.
I've always been pulled to know myself, believing that to change the world, we need to start with ourselves. Which is why I went from a BSc Psychology to an MSc Cognitive Neuroscience. My desire to help others took me through a PGCert in Low Intensity Cognitive Behavioural Therapy and Level II Reiki. It was only after earning my diploma in Life Coaching that I realised my true calling was helping soul-searchers who feel torn between reinvention and being true to themselves.
I've spent decades feeling guilty for not being good enough. I was eleven when I first felt broken, and I felt helpless until I was 25. I've never felt "not" broken. I tried nearly everything to fix myself, and after decades found that we need to personalise self-care and self-knowledge to be ourselves.
FIND YOUR ROOTS is an hour-long coaching session that will lead you to reignite your inner spark, define your plan and take action while staying rooted to who you are.
WHAT TO EXPECT:
–A Short Problem-Solving Survey… before we even get on the call, you complete a short questionnaire so that our time is tailored to crafting solutions that work for you, and you won't have to go over your life history in the session.
–A 50-minute Video Call… to identify the fire, ignite your energy & plan out the path ahead… so that you feel confident about where to focus your time and energy, and are motivated to take that next step forward.
– A Customised Action Plan… focusing on what will help you now, in a simple format so that you have clear, realistic steps and feel confident about making changes and take consistent action.
– Unlimited Email Support… for 4 weeks so you are able to ask questions when you get stuck and put your plan into action: especially when things get difficult.
…All so that you walk away with a direction to begin walking, a plan of action to follow & more clarity on your 'Rooted Self'.

It was the "Life Kick Up the Bum" that I needed.
"Katy helped unravel me… I felt tied up in mental knots and she teased them out. Talking to Katy definitely woke me up and made me tackle the things in my life that I wasn't happy with. I was really stuck there for a while. Things got better when I began to see the rejections as a nudge onto the better path. It was a "Life Kick Up the Bum" that I needed. I have plenty of ideas and ambitions to get motivated on but having a focus was an obstacle. I ran 3 times this week, had a lovely hike yesterday and am feeling physically really good. She had more impact than she knows."
– Máire, PRIMARY TEACHER & WRITER

In this hour, we make subtle and profound shifts, because connecting with your true power is limitless.
A single session won't undo years of habits, but you'll get to not only experience the work and see how it benefits you, but have a plan to get started on your journey.
If we're a good fit and you'd like more support, we can explore working together longer-term.
Following Our Sessions, People Say They:
       Know where to focus their attention, so they aren't spreading their energy too thin.
       Manage their limited time better and push through procrastination so that they can complete the goals they're driven to do.
       Are able to take consistent action to make actual progress.
       Have a clear map to follow so they no longer feel lost.
       Listen to those intuitive signs so that they take action instead of freezing up in anxiety.
       Learnt skills to manage daily stressors like anxiety and time-management.
£75 / $99
Now I have something 'to do' about it, rather than just hoping my anxieties go away.
"Working with Katy helped me sharpen my focus, and gave me some direction. One session connected what I was planning to what I was anxious about. That tells me that I've already 'got my own back' in a way, but I hadn't it seen it that way. Making this connection together put my mind at ease. Now I have more clarity, and a pathway to focus on: something 'to do' about it, rather than just hoping my anxieties go away in time."
– Ciarán, PROJECT MANAGER
How to Get Started
If you're tired of buying self help books but not seeing sustainable results, and feel ready to connect with the fire that can fuel you to be enough, let's get started.
Psychology, neuroscience & cognitive-behavioural skills blended with intuitive & spiritual experiences enable us to make the best of both worlds. Add in some creativity, cheer-leading and nerdy facts, and we will give those impractical dreams some real-life roots, turning your exhaustion into confident energy.
Step 1: Select the green button below to sign up and submit your payment.
Step 2: Once your payment is processed, you'll be sent the questionnaire to get started immediately. You will be given access to my calendar to schedule the first call.
Step 3: When the time comes around, we'll have our session!
Step 4: Weekly email check-ins to help you apply the insights to take lasting action in your life!
Still have questions? Contact me.

I'm now better at asking for help.
"Katy guided me through the process to a really positive place. I can be a bit hesitant or defensive, but her manner put me at ease straight away. It was very reassuring, especially the way she managed to break things down into manageable steps with a really positive focus. I always find it a bit daunting to talk about goals – I have a tendency to go after everything
at once – but talking with Katy was really constructive. I'm now better at asking for help and have been using the tools Katy taught me to think about how to make life a bit more nourishing. I'm still grateful for that."
– Angharad, APOTHECARY
FAQs
I don't want to have video/audio calls, can you support me?
– Introvert? Wallflower? The option of typed-only coaching sessions leads to exact notes, and allows for relaxing music as we work together. Again, video is optional.
What if I don't have the time?
– As with most things in the self-development world, you'll get out what you put it. I can't define nor walk your path for you, but rather I can point out various patterns you may not see from your perspective, and I can help you to read the map when it gets muddy.
Is this all just a bunch of 'woo'?
– I do incorporate some non-scientific wellness aspects into the package, although I also hold degrees in Psychology and Neuroscience as well as a qualification in Cognitive-Behavioural Therapy, which is evidence-based, so there's a healthy mix of the two.
Can you help me start a business?
– The short answer is No. I am not a business coach. However, if you know what you want to do, know the steps to take and struggle with the motivation or energy, it's possible that the focus and drive we connect with could be supportive of your goals. 
Do you have a cancellation policy?
– Cancellations or did-not-attends are non-refundable. Exceptions may be granted on a case-by-case basis at my discretion for emergency and illness.
What if my question isn't listed?
– Contact me to talk about them.

I now see the real problem and have a clear solution.
"Katy-Rose is fabulous. She gently pulls back the layers to show you the real problem and then walks you through the
issues to find a solution. She's just brilliant. I strongly recommend her to anyone having trouble focusing and finding their
way forward. You must work with her!"
– Mhairi, WRITER