---
A great creaking bookcase opens to reveal the hidden library.
You step through, holding your breath as the dust from the disturbance settles back on each shelf.
This is the beginning of a Rooted Reinvention:
a place to find what is inside you, and learn to harness that power.
---
WELCOME TO THE FREE RESOURCE LIBRARY

Thank you for signing up to access the library of freebie resources. This page has everything you need to start identifying where you are, understanding what that pull toward reinvention really means for you, and take those first manageable baby steps toward your levelled-up self.
And as resources, I'm including workbooks, mini-module ebooks, recommended reading, youtube playlists, favourite self-care items, and cute cat photos. Because what more could you want? 🙂
[Some of the links below are affiliate, but they don't cost you anything extra: I just get a portion of the purchase for sharing about it.]
Happy Reinventing!
Katy-Rose Bye, Psychological Practitioner
[Psst...Start Here] – 4 simple steps to harness your motivation & build momentum; so you can take action on your reinvention rooted in who you are meant to be.
(in about 20 minutes)
[Can't Start? Start Here.] - A couple of techniques to help break out of that momentary panic that overwhelm can bring. Quick-fixes for short term distress.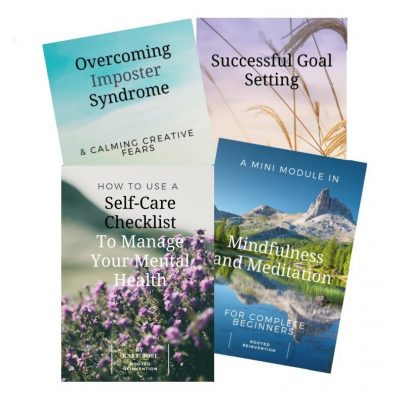 Youtube Playlist: Wellbeing Need-A-Smile Clips
My go-to videos for those moments you need a smile or a distraction. Great for transitioning from an emotional moment to a more mindful one.

And if you want MOTIVATING MUSIC, here's my Ignite Your Inner Fire (a playlist of motivating songs to sing and dance to.)


Cat Photos:
In need of cute cat photos to make you smile? Here are a couple of community favourites [to be uploaded June 2020]
Smoke lying down
Ember looking cute
Smoke and Ember cuddling
Recommended Self-Development Books:
Recommended Self-care Products:
Wild Souls I Believe In:
Danielle LaPorte: I am a Desire Map facilitator and have been following this instinctive lady for years. She was definitely one of the beginnings of me listening to my inner wildfire.
Leonie Dawson: I've followed this wonderful woman since 2010, pretty much buying everything she created. These days I'm a member of her Get Shit Done Club, and although I haven't taken this specific money course, I took similar-themed ones from her back in the day (which helped me get a biz up and running in 2011).
Ashleigh Ambirge: Again, I've followed this badass since April 2011 and her book The Middle Finger Project blew my socks off this year.
Have Questions?
Please email me at katyrose@rootedreinvention.com and let's talk.